Dawes Highway Safety are delighted to announce our loyal support of Whitworth Bros Ltd as they make their #fleet safer in line with #DVS2020 guidelines. Two of the company's brand new flour tankers have now been successfully fitted with PeoplePanels® and our innovative blind spot signs to help make them compliant under the Direct Vision Standard due to come into effect in the South-East later this year.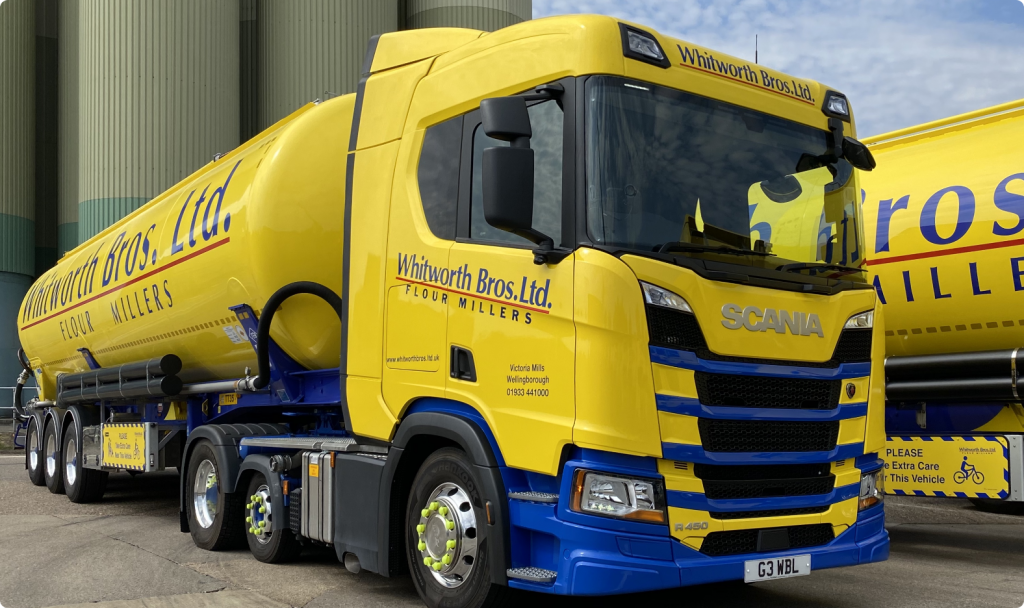 All of our customers are incredibly important to us and Whitworth Bros are no exception. The company (founded in 1886) have a market-leading brand to be proud of, so our ability to adhere to their company brand guidelines and create a bespoke flat panel safety system that complements their fleet has been a significant factor in them choosing Dawes Highway Safety. My team's attention to detail means the customer has got exactly what they wanted with regards to careful colour matching and design layout while incorporating our own FORS/CLOCS compliant wording and copyrighted icons (both researched and developed by us in partnership with leading cycle campaign groups).
Not only do PeoplePanels® significantly enhance safety for vulnerable road users, but they also provide a visible barrier directly in the field of vision of other drivers out on the open road. Driver feedback shows a direct correlation with a dramatic drop in 'near miss' and 'side-swipe' type incidents with cars sharing the same road space.
Dawes Highway Safety are helping to drive the international culture change through #Visionzero and our primary research into safety around vehicles (and vision towards them by other road users) is formally recognised by leading insurance companies who look favourably on the proven risk reduction associated with PeoplePanel® usage in HGV operations.
In accordance with DVS2020 regulations, the new tankers have also been fitted with our very own innovative blind spot signs. Significantly larger (and therefore safer) than the recommended rear warning message, our fully sealed product will never peel, fade or come away from the vehicle like old fashioned stickers always do. As a further advancement, Whitworth Bros are our first customer to receive blind spot signs with a bright red border seal which draws extra attention to dangers and is a further 'nod' to the red stripe in the company's iconic logo.
We are very proud to have been recognised by Whitworth Bros LTD and given the opportunity to work in support of their iconic company and fleet.